Aline Kenney -

September

 2021
This month we are pleased to highlight a new member of the Gate City Striders Hall of Fame, Aline Kenney.   If you would like to read a bit more about her history with the club, please check out the class of 2021 on our Hall of Fame page! 
I joined Gate City Striders in 1987 after meeting a group of Striders after a race in Merrimack. They were so nice and welcoming I couldn't wait to participate in events with the club. Some of the fun times included the Fred Brown Relay around Lake Winnipesaukee, Mill Cities Relay, Fitness University when Bill Rogers and Joan Benoit Samuelson were guests, and all of the races in the NH Grand Prix and the New England Grand Prix.
I was so happy to represent the club at the USATF Banquets in 2014 as 3rd in the 60-64 age (and our Club was chosen as Club of the year, how awesome that I could be there!) and 1st in 2016 in the 65-69 age.
There have been so many other memories too numerous to list here. But I do have a picture of some t-shirt quilts with these events!
I have been asked "why do I run?"… mostly for physical and mental health and… well … because "I LOVE RUNNING" . My next race will be the NH10 Mile and hopefully I can run the rest of the NH Grand Prix races.
What is the funniest running or race related memory?
I would have to say the race my husband Terry and I ran in Guthrie Oklahoma. We were there on vacation to see a rodeo. There just happened to be a 5k race in the town so of course we
had to enter. We had just completed the 100th Boston Marathon and proudly wore our jackets when we went to pick up our bibs. After a bit we noticed people talking about us and saying that the race director brought in ringers for the race! We couldn't believe they thought this but we did win in our age group!!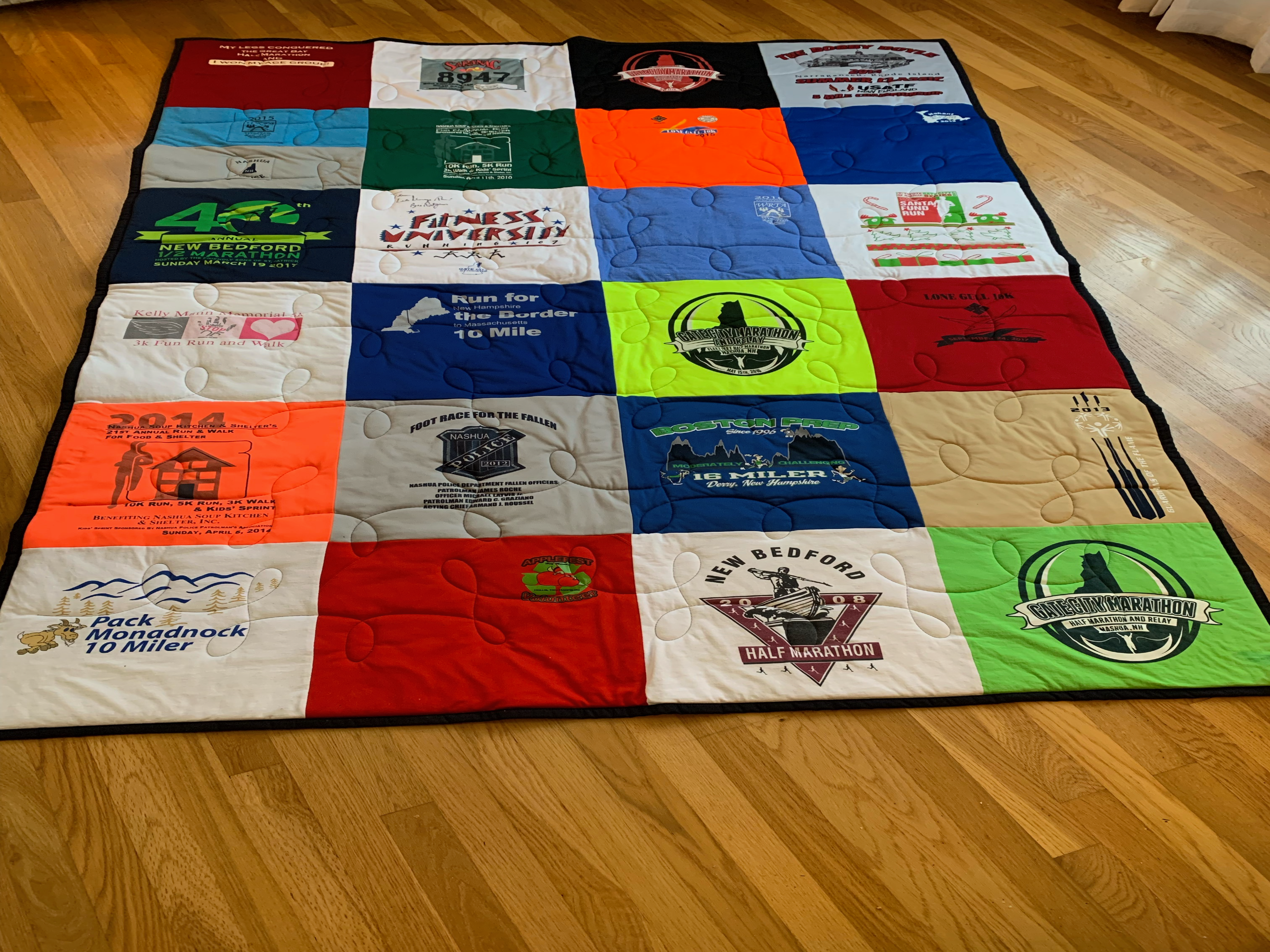 What other hobbies do you have besides running?
Downhill skiing, Cross country skiing, cycling and gardening.
How many pairs of running shoes do you own?
At present I have 6 pair that I alternate using.
Do you like running in the rain or snow?
I love running in the snow and don't mind running in the rain.
Your favorite junk food?
eeeek….. I hate to admit that I eat a lot of candy!!!!
What are some of my favorite memories of the club.
One of the many memorable events with the club was in October of 1997 when as a group the club went to the Marine Corps Marathon. We took the train from Boston to Washington DC. Everyone was so quiet on the way down but what a party train on the way back! So much fun, same hotels, dinners out.. lots of laughs … oh and a 26.2 mile run in the wind and rain at 45 degrees!