The Rube Family -

June

 2021
Thank you to the whole Rubé family being our Runners of the Month - and please enjoy the benefits offered by Peak Recovery and Health Center!
The RotM committee loved your "Rubé Running Club" shirts at the Gate City Running Festival recently. We'd love to know more about your story and what inspired the shirts!

The Rubé family is so excited to be runners of the month! Allan and Susan have been Striders since 80's, and Jake grew up attending many Strider events and races. When our family settled in Nashua in 2013, I joined in on the family fun and started running. Through watching parents and grandparents, our children have each become their own runners- participating in family racing events, Fitness University, and Nashua PAL.
The Rubé Running Club shirts started in 2019 for the Gate City Marathon. We are very proud of our three generation team and involve as many of us as we can in running events. Our family favorite is the Mine Falls Relay where we do kids against parents/grandparents. We're currently working on new Rubé Running Club Singlets. Watch out for them this summer!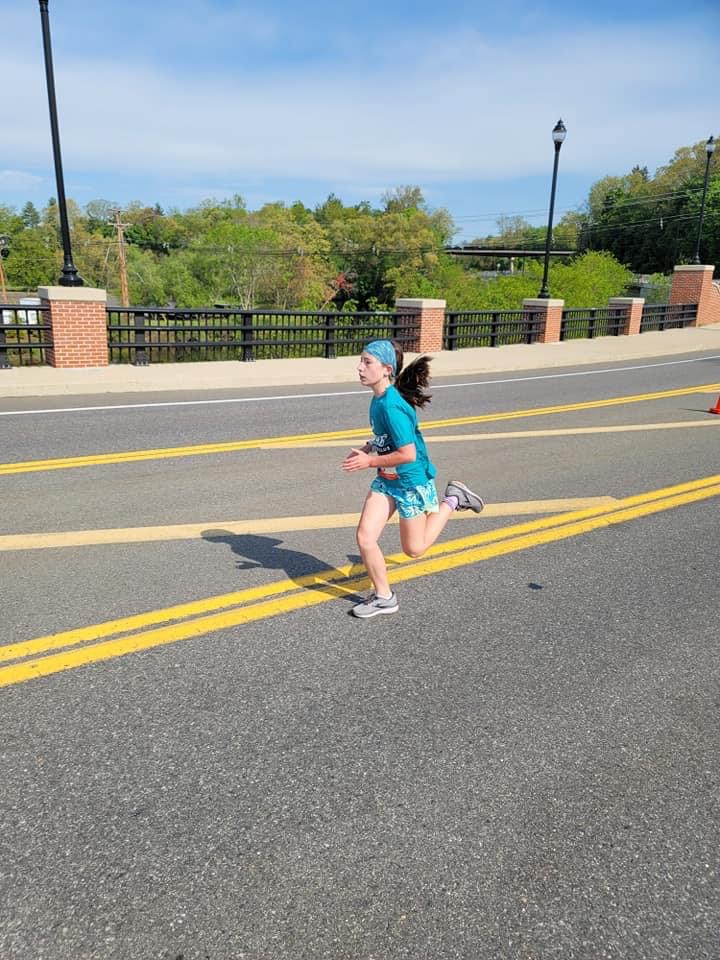 Congratulations to Claire on winning the mile at the Gate City Running Festival! We hope she was delighted!
Claire is such a rare breed of runner for her age. She doesn't worry about beating others; she finds the positive in each run she takes. She has been so fun to watch grow into her running through Nashua PAL. She gets so excited at races that everyone cheers for her!
Why do you run? (e.g. health, fitnes, mental/stress relief, competition, etc)
We all run for physical and mental health.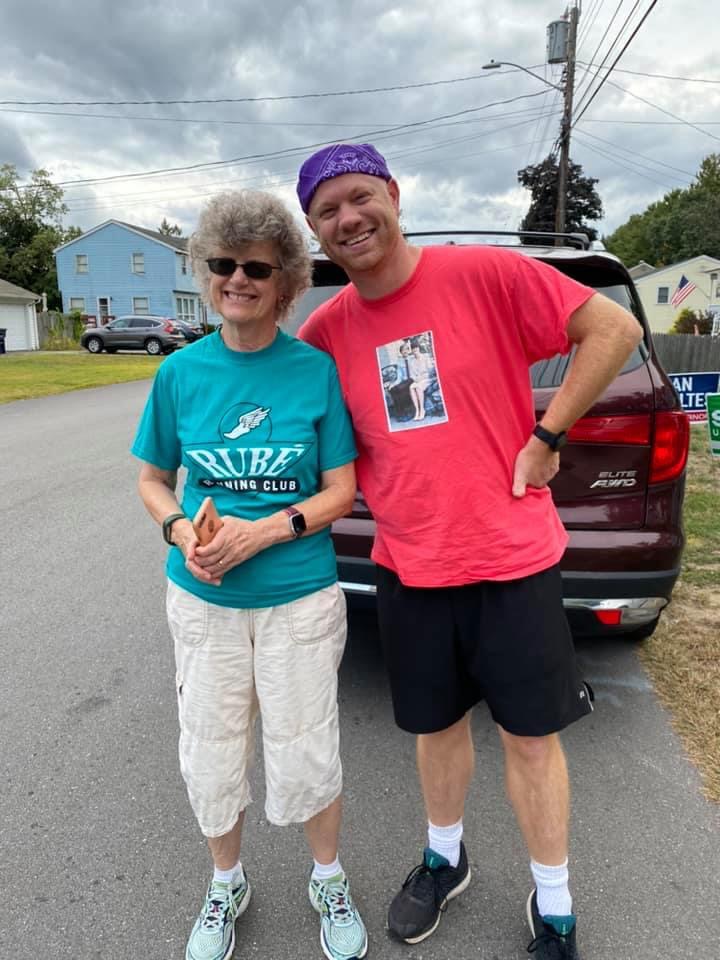 What is your next race?
Claire, Susan, and Jaclyn are running Berna's Great Legs race for Women in Lowell.
Do you follow any runners on social media?
We all love Des Linden! Watching her mileage everyday is a daily conversation.
What are your 2021 goals?
Just keep running, no matter the pace or the miles. We're all happy to be able to get out there and get it!
What has been your favorite race so far?
Our favorite race is the Toby Trot 5K! Every July 4th we have our running friends over to run a 5K that runs from our house, around Holman Stadium, and back. We make t-shirts, everyone brings a snack to share for the afterparty, and the kids make homemade medals every year. We're always looking for new runners at the Toby Trot, someone has to beat Claire!
Did you do any virtual races over the past year?
We loved the Mine Falls Summer and Fall Series. It was so fun to be out there and see familiar faces out there too! There was a sense of togetherness we appreciated!
How did you and your family stay active during COVID?
Stay at Home gave us the opportunity as a family to spend a lot of quality time together. Before the school day we did family walks. Claire and I ran together with a couple of her friends during the week, and Jake joined us on the weekends. Susan ran the Tufts 10K virtually this year, and we all ran with her to support her. The whole family took part in our Elementary School's physical fitness challenge in the Fall. In the winter, we all became ping pong pros. Currently, our favorite family activity is playing basketball after dinner. Knock out is the game of the moment.
What is your funniest running or race related memory?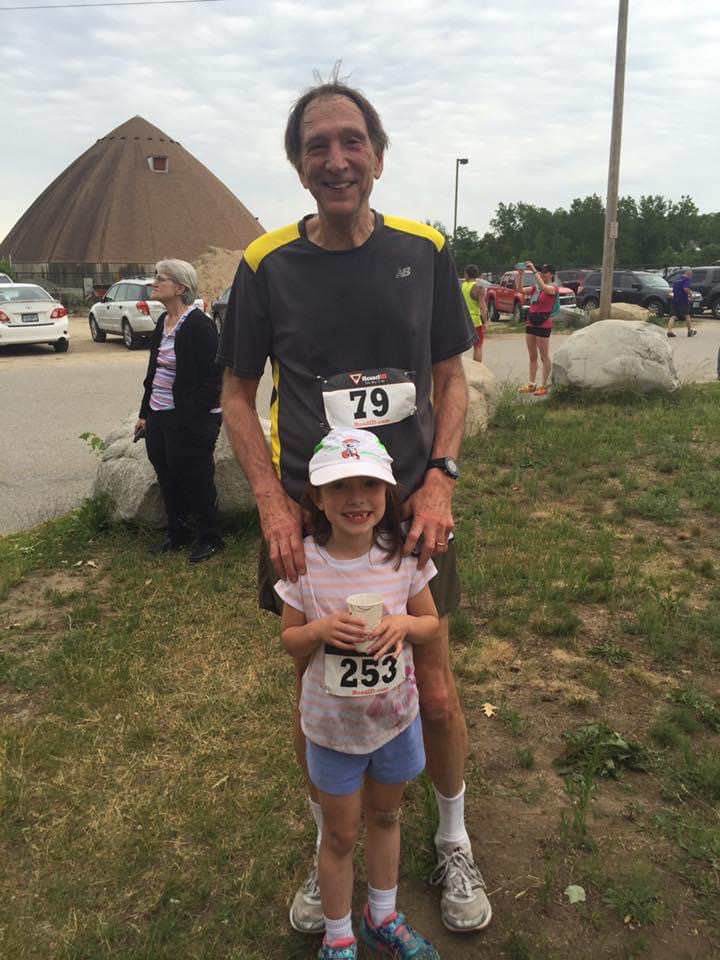 My favorite race memory is Claire's first Mine Falls 5k. She was six years old. She must have fallen at least 15 times, and cried the whole time! She kept saying "I guess they call it Mine Falls because all I do is fall!" She was so proud when she finished.
What other hobbies do you have besides running?
Saturday night is family dinner and activity night. Through the summer, we watch outdoor movies, and when it's too cold we play board games. The game of Clue can get pretty heated!
What made you decide to start running?
Allan and Susan have inspired each of us to run. We are in awe of their consistency, competitive spirit, and genuine passion for the sport. They are always there to cheer for any of us at a race too. We are incredibly lucky to have such wonderful role models.
Do you listen to music while you run? If so, any favorite songs/artists?
A Rubé staple is the Hamilton Soundtrack. Try to run slow to those songs!
What has kept you motivated during the past year of COVID?
At the beginning of COVID, we sat down as a family and decided what we wanted for ourselves at the end of the pandemic. We all agreed we wanted to be healthy and happy. With those two pieces as our priorities, we knew we each needed to take care of ourselves so we could be the best family members we could be to one another. We encourage each other to be active and include other members of the family.
Favorite junk food? Seriously, the kind you don't like to admit you eat?
Jake loves junk food and isn't afraid to admit it. He's a five scoop coffee oreo from Hayward's guy.