Gate City Strider Member Benefits
The Gate City Striders running club welcomes members from all around Greater Nashua. Perhaps you have seen us on local roads, at a race, or in the news. We are an active group and we have fun while staying in shape. We serve Southern New Hampshire and the Merrimack Valley and offer something for every type of running enthusiast.
The many benefits of becoming a Gate City Strider include:
Discounts at local businesses!
Our email newsletter!
The newsletter gives you all kinds of information about the club, what's going on, and how you can participate!
Fun, fun and more fun!
Yes, many in the club like to race and compete, but we are also a fun group with a running problem!  Striders like to get together and socialize at events put on by our social committee, which include things like:
Best of Boston awards night (Awards to the fastest New Hampshire runners and Gate City Striders at the Boston Marathon)
Opening Lap Celebration (Pizza social after summer track workouts start in mid April)
Hayward's runs (nothing better than ice cream at the end of a run!)
Our annual Awards Dinner
We also have fun races where all are welcome, even those who like to dress up or just have a good time.  For example, the Curley Goulet Memorial Novemberfest Trail Run and Party (aka Novemberfest) has been held on and off (but mostly on) since 1995 with a tradition of bringing in celebrity "guests" to entertain the runners.  Novemberfest is hosted by the Wednesday Evening Church Group (WECG) with all the proceeds benefiting The Nashua Children's Home.  If you like silly, wacky, and goofy, this race is for you!  (Plus the post party is always amazing!)
Guest Speakers!
We have been extremely fortunate to have many nationally and locally known guests speak to our club over the past few years.  Some of these amazing people include...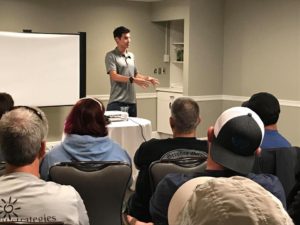 Sage Canaday speaking to Gate City Striders
Boston Marathon Race Director Dave McGillivray
Boston Marathon historian, author, and producer of the movie "Boston"

Tom Derderian (who spoke at a private viewing of "Boston"!)

Professional runner, marathoner, and ultra marathoner

Sage Canaday

Triathlete Amber Ferreira
GCS member, author, and speaker extraordinaire Randy Pierce
Representatives from Ragnar Racing who presented a behind the scenes look at Reach the Beach
Coach, IronMan, Ironman All World Athlete Gold, and President of Northeast Multisport Triathlon Club Colin Cook
Head Coach Rick Muhr of the Marathon Coalition
Ultra-marathoner and recovering addict Henry Ward
Mountain runner and ultra-marathoner Kasie Enman
Volunteering! 
We have plenty of non-running ways to be part of something great.  Join us as a volunteer at any of our signature events and help give back to the local running community!
Youth Events and Community Outreach!
Fitness University: Established in 1989, this FREE running fitness program for children ages 3-14 is dedicated to promoting fitness and fun.
Youth Track & Field Program: This program is for those members, ages 7 and above, who wish to compete in Track, Road racing & Cross-Country
Scholarships: Scholarships are awarded annually for Gate City Strider members, children of members, or those sponsored by members.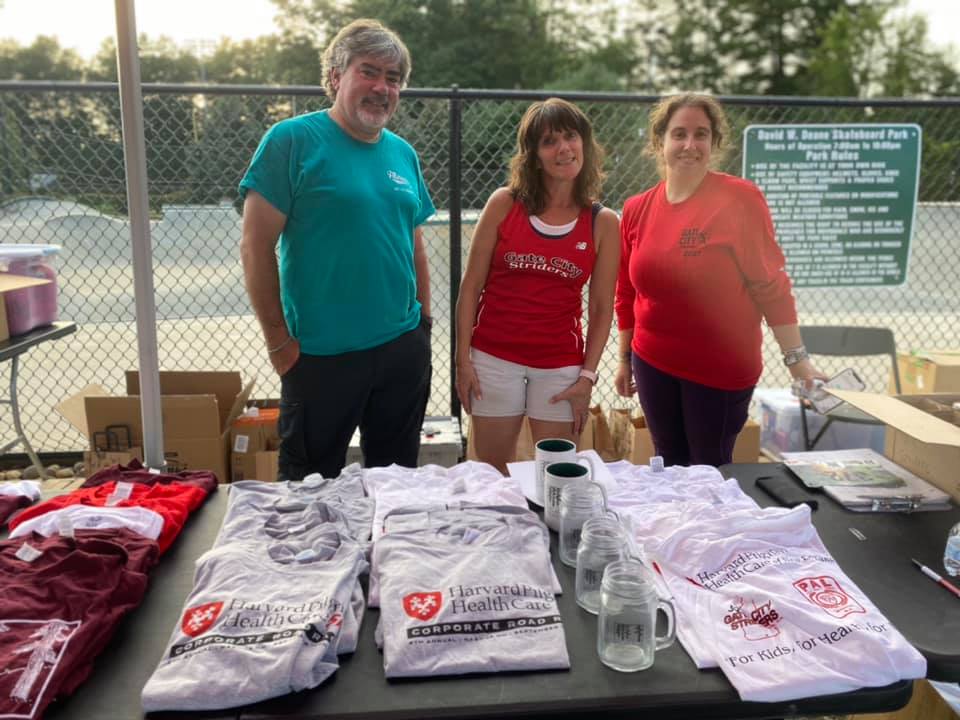 Improve your Running!
Club Coaching: Coached training for members who want to take their running to the next level.
Extremely Knowledgeable Members: Our Hall of Fame group has forgotten more about running than most of us will ever know.  Talk to them or discuss questions and issues with our other members on our Member Discussion Board on Facebook.
Training!
Beginner to 5K:  Someone you know isn't a runner but wants to get in better shape?  (You know - asking for a friend, right?)  Come join our program and even better - it includes a free year membership in Gate City!!
Summer Track Workouts: These are club-sanctioned, coached workouts for all levels and abilities. They are every Wednesday evening from early spring until late fall.
Indoor Winter Track Workouts: Join fellow Striders during the cold winter months at the Hampshire Dome in Milford NH for coached indoor workouts.  (Additional cost above membership)
Group Training Runs: Group runs available for all ages and abilities.  It doesn't matter what your pace is or how far you like to run - you'll find events that are fun and welcoming!
Racing!
GCS Racing Team: All club members may participate in road, track, trail, mountain and other races all across the region.  These include the USATF New England Grand Prix, New Hampshire Grand Prix, Mountain Series, and Cross Country events, which include a generous race reimbursement program!  Every runner counts and we welcome all participants!

Race Entry Fee Reimbursement: Every club member qualifies for our Race Entry Fee Reimbursement program!  Check out the link for more details, but basically run more races and save more money!
Boston Marathon Bibs:  We have been fortunate enough in the past to receive a small number of bibs to the Boston Marathon that do not require a qualifying time (although you still have to pay for registration).  As a member of the Gate City Striders, you are eligible to apply for one!
Boston Marathon Bus: Guaranteed seating on the best way to and from the Boston Marathon. Plus, it's also a great way to get to know other runners in the community. Hot shower and post race party included. Checkout our on-line forum for more details and contact information.
Pack Monadnock 10 Miler:  Ready to run up Pack?  Want to get some hills in?  This is your race!
Mine Falls Summer Trail Series:  This low key trail run is super popular, family friendly, and open to the community.  Be a part of the club that makes it happen!
Freeze Your Buns:  Another low key and family friendly race that is open to the community happens over the winter months - what better way to get out and enjoy winter, followed by a hot cocoa and social time with friends?
Ultimate Runner Night:  Ultimate Runner Night is four races in one: 400 meter run, 800 meter run, 1-mile run, and a 5k! All of these are run separately, but on the same night. The results are age and gender-graded, which means times were adjusted for your age and gender. At the end of the night, the man and woman with the highest age-graded score are crowned Ultimate Runners!  (Open to GCS members only!)
Mill Cities Relay: Since 1984 the relay is a celebration of the sport of running and provides camaraderie between running clubs.  All members are welcome to race for the club!